With the 2024 Paris Games in sight, expectations for connectivity are growing for event venues, particularly in the sports arena. In stadiums, state-of-the-art connectivity, such as 5G, is key to meeting the new content habits of sports fans. Today's fans are ultra-connected and want information. They're also looking for technical and statistical content, contextual, and entertaining information before, during, and even after a game! The sports experience must be as instantaneous, immersive, and qualitative as possible to fulfill this thirst for knowledge and the desire to be closer to the field and its players. A need that requires the media to be more reactive in sending their data, and organizational teams to interact seamlessly. This is how 5G is becoming the number one asset for sports venues and events.
The Orange Velodrome Stadium: a life-size exploration ground
The Orange Velodrome is the first 5G stadium in France! This stadium made its public debut by hosting the new mobile network as part of a co-innovation contract between Orange Business Services and the Olympique de Marseille. From the outset in 2019, this collaboration aimed to make this sports mecca a real laboratory for experimenting with 5G before its time. In just three years, this field of exploration and co-innovation has made it possible to test in advance numerous 5G technologies in real-life situations, destined to revolutionize tomorrow's sports and event experience. In short, to anticipate new uses. The results are clear: in stadiums, 5G connectivity is an asset for fans, athletes, organizers, and media professionals.
The "real-time and high-definition" duo within reach of all media with 5G
Reduced latency, high bandwidth, connection autonomy, slicing to prioritize bandwidth for specific uses, Edge Computing, etc. 5G has what it takes to seduce venues dedicated to sporting events and all the professionals who work there, like the media. With 5G, forget about a saturated network due to many connections in the same place! The mobile network can handle many more connections than 4G could. Even better, the speed of 5G SA will be up to 10 times faster than 4G, which allows professionals – like sports photographers – to receive or send large amounts of data (photos or HD videos) in near real-time. Plus, there are no connection or cabling constraints. This new field of possibilities in data transmission allows professional photographers near the pitch during the games to gain immediacy and, thereby, competitiveness.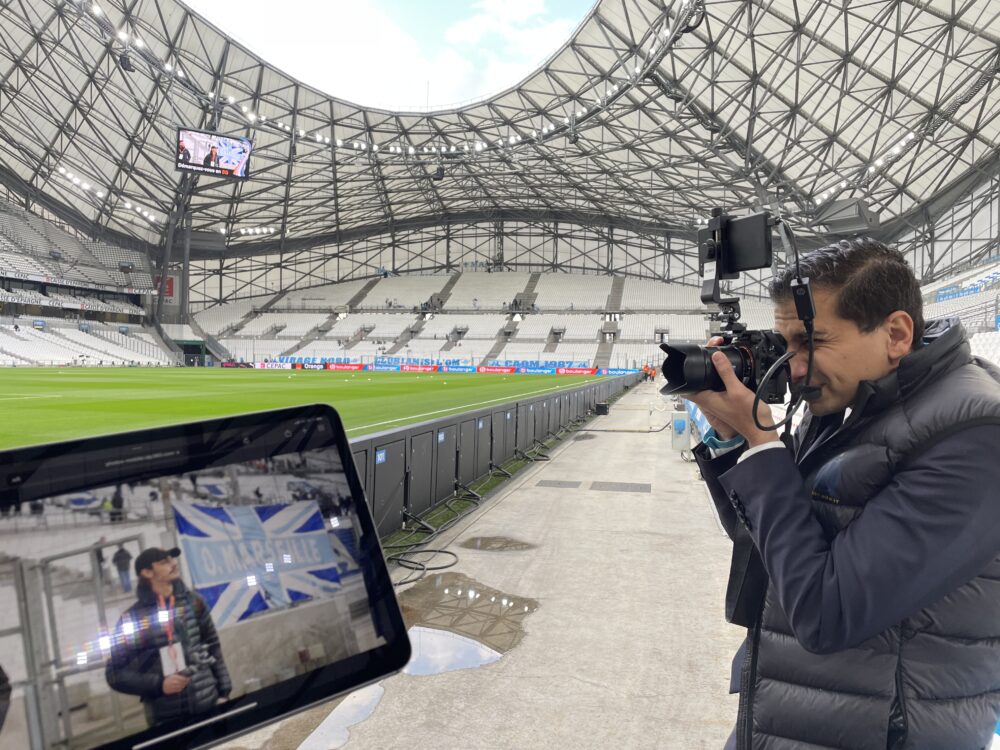 Freedom of movement and immediacy for professional photographers
To send their captured photos in high-definition (HD) to dedicated media servers, professional photographers were, until now, forced to move around the stadium to connect their cameras to a network socket through an Ethernet cable. This process was time-consuming for photographers who risked missing out on one of the event's highlights. Thanks to 5G, professional photographers can now instantly transmit their photos to a dedicated server anytime. An advantage confirmed by one of the world's leading providers of video contribution systems based on IP networks: AVIWEST. AVIWEST came to the Orange 5G Lab in Châtillon and then to the Orange Velodrome stadium to test its compact and easily transportable device called "AIR 5G"! This device allows each photographer to bring up many high-definition photos in only a few seconds once connected to 5G.
The same applies to the major company Sony, which, with the help of the Orange 5G Lab, has upgraded one of its professional cameras, the Alpha 1. By equipping it with an instant 'send' button and a SIM card giving access to the 5G Lab's experimental network, Sony has found that it is perfectly possible to free professionals from their computers and the obligation to connect to a local network. The real-life conditions tests at the Orange Velodrome confirmed that the high speed of 5G and its low latency allow the instantaneous sending of HD photos, directly from the device, without additional equipment and without losing quality.
Autonomous transmission of camera streams in near real-time
The wide availability of the 5G network, its low latency, and gigabit speeds have also proven its benefits for video production. For example, 5G makes it possible to send all camera streams almost instantaneously to a control room – even hundreds of miles away. A use case anticipated in 2021 by AVIWEST, which came to experiment with 5G in the Orange 5G Lab in Rennes with its 5G Live Remote Production video solution. This experimentation turned into a breakthrough that could transform video production in depth. Indeed, moving a whole production team to an event is not needed. This improvement will drastically reduce production costs and, at the same time, allow the broadcasting of events that could not afford it before.
Live sports' viewing and understanding to be enhanced thanks to 5G
5G is a guarantee of high customization for fans of sporting events. A single smartphone will get them closer to the pitch, the nets, or the bench, thanks to its high speed, low latency, and simplified connection. In the same way, each individual can enrich his experience and, above all, live it at his own pace thanks to the innovative features that 5G now makes available: live, instant replay, slow motion, zoom, etc. The start-up VOGO has succeeded in enriching its multicast service with this type of customizing functionality thanks to the power of 5G and the support of the Orange 5G Lab. A revolution in terms of attention and knowledge for viewers. The real-time video multiplex solution proposed by VOGO has developed more powerful – and even new – offers thanks to the mobile network. Technically, 5G has allowed the start-up to increase the number of the streams provided to viewers, to go upmarket on video encoding, and to get a better resolution than what it had to settle for in WiFi. By relying on the 5G network, the Montpellier-based SporTech company allows spectators to watch or rewatch every action from their smartphone and different cameras and viewing angles.
5G: a helping hand for fan immersion and inclusion in sports!
While 5G enables innovation, it is also a fabulous tool for improving what already exists – like Sony's professional camera and Augmented Acoustics' SupraLive service. This augmented audio service that relies on a multi-track topology was limited in the number of simultaneous users and range until the arrival of 5G. Thanks to the ultra-low latency of 5G, this solution, which required a proprietary box, could be deployed as a mobile application. It's a new business model for the start-up, which can now reach many users. But also to offer a fully customizable interactive sound experience to users. Two experiments took place with the help of the Orange 5G Lab at the Orange Vélodrome (during an OM-OL match in 2019 and another in aid of Unicef). Objective: test and co-innovate with the start-up! Eight audio sources were available to Orange test users equipped with headphones and the SupraLive app (atmosphere on the field, sounds of the ball, audio description, etc.). Each audio track could be overlaid instantly, and the user could also mix them with his own audio sources. This innovation marks a (r)evolution as an immersion driver in the stadiums and of inclusion for the hearing-impaired public. For this reason, the "Immersive Acoustics" service will soon be integrated into the Orange catalog.
Events: 5G revolutionizes the experience of spectators, professionals and media
Fans to know the players better and get closer to them, thanks to 5G
5G allows any spectator to create their own fan experience thanks to HD, 360, and 3D photos and videos accessible from one's smartphone, the increase in the number of viewing angles, access to additional content (technical and statistical) in real-time, and the possibility of sending or receiving any content instantly without loss of quality. They can also interact freely with friends, family, online community, or other viewers. More and more, an experience enriched by virtual and augmented reality is introduced into stadiums. And how? Thanks to the high speed of 5G, its low latency, connection autonomy, and robustness. This is how the Augmented Match application was designed jointly by Orange and Immersiv.io. An augmented reality mobile application that allows sports fans to access technical and statistical information about the players on the field in real-time live from a stadium. A technological solution that would not have been possible without the following:
The high-speed connection of 5G allowing the display of a large amount of information on the app;
The almost non-existent latency of 5G which avoids any lag between the actions taking place on the field, the data appearing in augmented reality, and the players' digital twins.
The Orange Vélodrome 5G Lab team, Immersiv.io, Olympique de Marseille, Amazon Web Services (AWS), and Stats Perform – the company in charge of the real-time collection of all match data for soccer teams – jointly implemented various tests in real conditions.
And the results are convincing! In augmented reality, the near-zero latency of 5G avoids any lag between the actions taking place on the pitch and the players' data (positions, passes, shooting percentage, defensive zones, etc.) superimposed on the smartphone screen and via digital twins. A new way to watch a soccer match made possible thanks to the advantages of the 5G network, coupled with the power of AWS Edge Computing currently available in the first French stadium covered by the network.
The Orange Velodrome is no stranger to successful 5G experimentation. In another real-life test, the Axyn Robotics robot allowed sick children unable to move to be closer to the soccer players. A child piloted the robot connected in 5G from home via a dedicated website, accessible on mobile, tablet, and computer. The Axyn Robotics robot, equipped with cameras and a screen, allowed the children to chat with the players and follow them to the training field. Axyn Robotics made the true-to-life interaction and closeness of the robot possible thanks to the extremely low latency rate of 5G, which avoided any visual interruption and ensured a high-quality image in real-time (for both the children and the players). But also a secure experience thanks to Orange Cyberdefense, who ensured the interaction with the robot was safe.
5G: a technological advance that also simplifies event planning!
The performance and connection reliability of 5G is not only beneficial for spectators. While professional photographers have already experienced the benefits of 5G by being able to instantly send HD photos without any connection to a computer or local network, event organizers have also discovered the new possibilities offered by the autonomy and high speed of 5G, with the 5G experiment conducted by VOKKERO and Orange 5G Lab. The start-up was able to see this for itself, as Fabien Le Clech, 5G Lab Marketing Product Manager and head of the Orange 5G Lab in Châtillon, explains: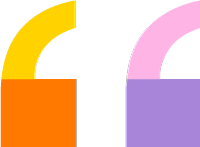 "By connecting VOKKERO in 5G, a supervisor can now converse with his teams even if they are deployed on a field in remote radio communication 'bubbles.' The 5G network makes it possible to create a "backbone" that connects the VOKKERO gateways between the supervisor and his teams. Thus, even if the teams deployed in the field are several hundred meters away from the supervisor's console, they can all communicate smoothly."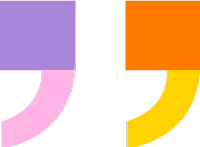 AVIWEST, Sony, VOGO, Augmented Acoustics, Immersiv.io, Axyn Robotics, or VOKKERO are all part of the companies that, with 5G and the support of one of the Orange 5G Lab, transform the experience of spectators and professionals within the stadiums. A new evolution has just begun!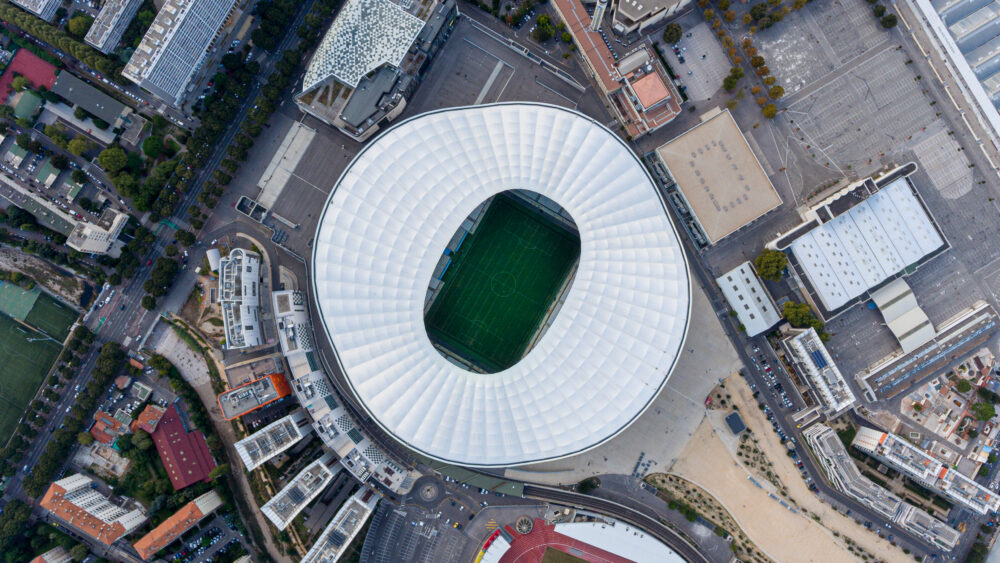 Stay informed about Orange 5G Lab news